Welcome to Our New Coaches
We're excited to announce that due to overwhelming demand for agent coaching, we have three new coaches ready to take clients. A big welcome to Chris Dougherty, Dave Maynard, and Natalie Antonelli.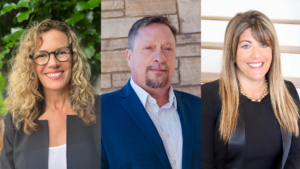 Chris has worked in the real estate industry for around 15 years, first at Keller Williams onboarding agents and then at Coldwell Banker Realty as a field instructor specializing in integrating systems and tools into agents' businesses. She transitioned within Coldwell Banker Realty to being a team business consultant, counselling agents on building teams, working on the foundations of their businesses, and helping them tackle challenges in forming and expanding their teams. From determining a structure that fits their business to defining brands and optimizing contracts, she guides agents through the team-building journey while integrating key systems and tools.

After discharging from the US Army, Dave had a successful 20-year career working within the juvenile correctional system. While holding many supervisory roles, the later part of his career centered around helping others build strong businesses. He brought this business-minded approach to real estate when he became a REALTOR with Coldwell Banker Realty in 2016. After joining Coldwell Banker Realty, Dave quickly became a Sales, Development and Education Assistant Manager and eventually a Managing Broker of the #1 growth office in Colorado. Through coaching, his goal is bringing real estate agent businesses to life, assisting in driving production and creating a sustainable and growing referral-based business.

Natalie embarked on her real estate journey in 2004, founding a thriving boutique brokerage in Boca Raton, Florida that quickly gained recognition for its success in the South Florida area. In 2011, she was recruited to join the prestigious ONE Sotheby's International Realty Brokerage in Miami. Natalie's career reached new heights in 2016 when she assumed the role of Managing Broker for Coldwell Banker Realty in Northern Colorado, where she oversaw two offices and directed the state-wide Global Luxury Membership Program. Coaching and guiding agents, particularly those in the luxury real estate market, has been one of her long-time, unwavering passions.

If you're interested in working with one of these coaches or learning more about Leader's Edge Agent Coaching in general then call our office at training@leadersedgetraining.com.