Ten Tips for Success in 2021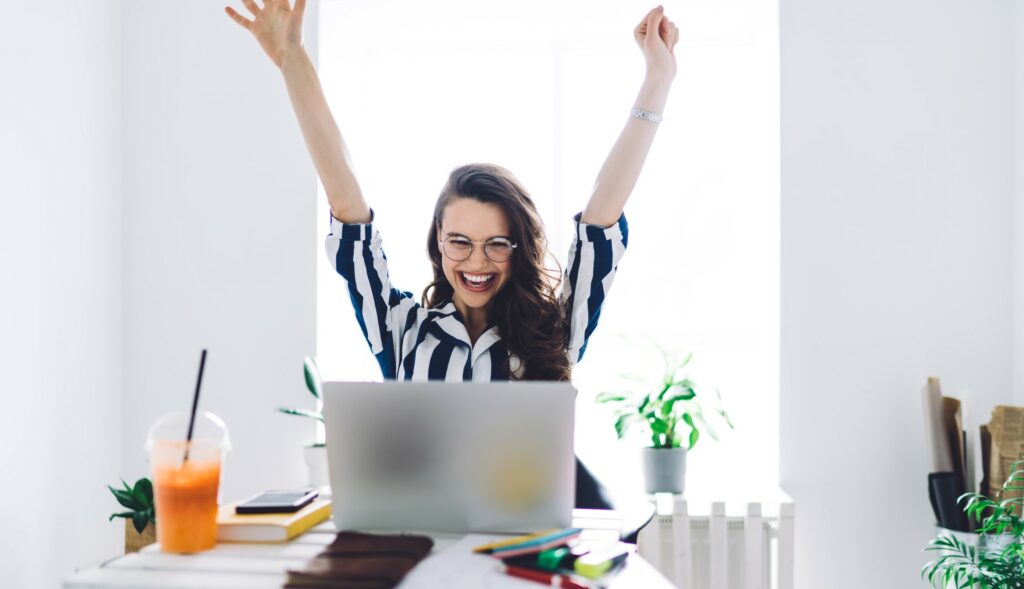 It's a new year and a fresh start. For some of you, 2020 was your best year ever (despite the pandemic). For some of you, 2020 was your worst year ever (because of the pandemic).
As an entrepreneur, you are responsible for your own success. That often comes with a lot of sleepless nights worrying about tomorrow. But you gave up security for opportunity when you joined real estate. With great risk comes great reward, and we've certainly seen our share of risk this year. But this week is a fresh start. What are you going to do with your fresh start?
I want to give you TEN TIPS FOR SUCCESS for 2021.
1
LEADERS ARE READERS
I'm an avid reader and you should be too. I'm always on the hunt for what's new in the industry, but I also like reading about sales strategies that I was aware of and maybe forgot along the way. Every day I read the New York Times, National Post, Washington Post, Inman, REM, RIS Media. It gives me new ideas and it keeps my focus on where the economy and industry are heading. I suggest you get in the routine of blocking 30 minutes every morning over coffee to keep yourself up to date.
2
USE THE AGENT SUCCESS APP EVERY DAY
We developed the Agent Success App for elite agents. It is not for everyone. Most agents don't have the discipline to use it every day, but for those at top of their game, it is the perfect tool to help you understand your goals and your conversions. Top producers are always looking for ways to get better at what they do. The app allows you to see what activities you need to do to achieve your goals, and it tracks your performance along the way. The best part is…it's free!
3
COMMIT TO YOUR MORNING HIGH FIVE
This is the most powerful way you can start your day. No one likes to prospect, but this is an easy way to stay connected to people you already know in a non-intrusive way. Every morning, log into your CRM system and send 5 emails, 5 text messages, make 5 sly dials and send 5 handwritten notes to people in your sphere.  Follow it up with 5 social media posts/comments. You can get it done before the rest of the world wakes up, leaving the rest of your day for dealing with clients. 25 touchpoints every morning = 125/week = 500/month = 6000/year (all before your morning java).
4
HAVE 10 CONVERSATIONS A DAY WITH STRANGERS
One of the biggest challenges for agents is that they don't talk to enough strangers, so their pipeline of opportunities dries up. I get it, talking to strangers is a little uncomfortable, but if you only talk to your friends and family, those conversations will not generate enough opportunities to fill your pipeline (even if you do your high five every morning). I'm an advocate for doing an "hour of power prospecting" every day. Commit to talking to 10 strangers a day (FSBOs, Expireds, open houses, at networking events, at the coffee shop, etc.) If by dinner time you haven't spoken to enough people, then commit to making prospecting calls in your geo farm after dinner. Most people are home in the evenings, so it's the good time to make calls.
5
HAVE A POWERFUL GOAL TO STAY MOTIVATED
If you talk to strangers every day about real estate you are going to face a lot of rejection. The best way to overcome rejection and stay motivated is to have a POWERFUL goal. Something that you are so excited about that you will do anything to get it. What would you treat yourself to if you reached goal? Add that reward into your business plan, so it is no longer just a pipe dream, but you have a concrete plan to achieve it. When you have a powerful goal, your conversations become focused and you start talking to people with INTENT. You don't just go through the exercise of talking to people, you have intense focus with every conversation to book a face-to-face appointment. Place reminders of your goal everywhere: make it the screensaver on your phone and laptop, post a picture of it above your desk, put a picture of it on the visor of your car. Everywhere you are you should be reminded of what you are working hard for.
6
IMPROVE YOUR RESPONSE TIME
Real estate agents are not always the best with their communication and follow-up. You may find yourself losing opportunities because you don't follow up in a timely manner. How often are you frustrated when you call another agent about a listing and they don't get back to you right away? How quickly do you follow up when you get a referral? If you talk to someone Saturday and they mention they are thinking about moving, you need to call them Sunday morning. This may seem ambitious or even a little aggressive, but don't talk yourself out of doing it. I'd rather have people say to you "No thank you" then for you to miss an opportunity. With technology today we are all connected 24/7. This has given rise to consumers expecting immediate responses to inquiries. I can't tell you the number of times we phone or email agents and they take days to get back to us. If you don't follow up with people quickly, I guarantee you are frustrating people and losing opportunities.
7
TALK LESS, LISTEN MORE
Another challenge that most agents face is that when they are doing client presentations, they talk too much. Think before you speak! Hear me when I say this…this is a fundamental sales strategy…when it comes to sales, LESS is MORE. Listen more and talk less. If you ARE going to talk, use questions, don't make statements.  For instance, one of the questions you may want to open with on an appointment is "Tell me your story. What do you like to do when you're not selling houses?" If you don't know what else to ask them, remember the acronym FORD (talk to them about their family, occupation, recreation and dreams). When the conversation shifts to talking about the house, ask about their WISH LIST and "What are the 2-3 things you would change if you could?" Get them excited about moving forward. Bridge from talking about selling their current home to where they are moving. You can make this happen for them!
8
DON'T BE FORCED TO LOWER YOUR FEES
The way you do business is constantly changing. We are always innovating and adding new strategies and removing strategies that are no longer applicable. Your business model is always a work in progress. It is never finished. You must constantly add new strategies to help your clients. If you are reluctant to adopt strategies that other agents are using, then in the absence of value the only way you can compete is by lowering your fees. I can tell you from experience, you will never win the race to the bottom. There is always another agent willing to do it for less and in the end, you will end up working yourself out of the business. It is important that you clearly communicate all of the BENEFITS of the amazing services you provide. As a consumer, I must see value in what I get for the fees I pay. The first thing you have to do is constantly adopt new strategies and fine-tune the ones you already have. The second thing you have to do is be able to communicate the value of those strategies to clients. How will they benefit?
9
IMPROVE SOMETHING EVERY DAY
To stay competitive, you must constantly refine what you do. If you don't, you become obsolete to your clients. Your good looks and personality will only get you so far in sales. If your clients don't think you are up to date on all of the new digital marketing strategies, they may like you, but they won't list their house with you. How do you constantly stay relevant?
Read the industry publications every day
Attend office meetings to find out what new tools your company is implementing
Join coaching and have a mentor help you adopt the latest strategies.
We can get so caught up in the day-to-day busy work of the business that we don't spend time thinking about the future. If you continue to do business the way you always have, you are working yourself out of the business. Constantly look for what else is out there, who is using it, how much success have they had, and what investment you have to make.
10
CHOOSE YOUR FRIENDS WISELY
You know the saying: "Birds of a feather flock together". If you want to be successful, you need to surround yourself with successful people. It has been said that we are the average of the five people we spend most of our time with. Hang out with agents who are more successful than you to push yourself. Stay away from the negative agents in the office. Don't listen to the complainers. Get out there every day and hustle, hustle, hustle…that is how winners are made.
I wish you the best of success in 2021. Let's make this year count!
Chris Leader
President
Leader's Edge Training