Holiday Networking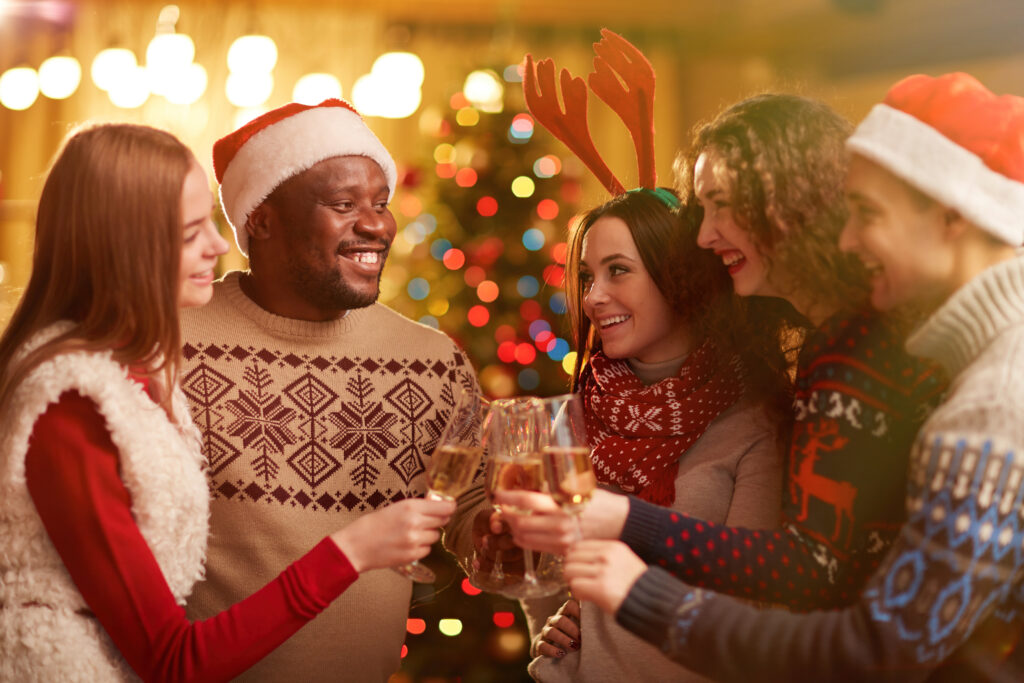 Let me start by wishing everyone a very happy holiday week. I hope you enjoy time with family and friends over the holidays. After an exhausting year, I'm sure you are ready for a little down time, but let's not forget, there are still great opportunities out there for you to generate more business this week.
By now the flurry of holiday shopping and parties is mostly behind us. If you planned well in December, you would have sent hundreds of Christmas cards to everyone in your sphere and spent the past couple of weeks doing pop-bys to your past clients and all of the businesspeople in town. December is a hectic month for networking, but if done correctly, it will set you up for a great month of business in January.
I want to give you some ideas on how to generate business over the holidays. In real estate we work when everyone else is off. Ninety percent of the people you know will be at home for the holidays this week, and it is a great time to connect with them. But rather than focusing on past clients and business partners (mortgage reps, lawyers/title, etc.), this week you need to shift gears and focus on your most personal relationships … your friends and family.
Many of you may decide to take this week off completely and spend it with family since you haven't seen much of them for a while. I understand that. But if you have some energy left and you want to make the most of this week, there are two places you go to generate more business:
Impromptu visits with family and friends.
Holiday phone calls to prospects who have gone cold.
Let's start by talking about visits with family and friends. The question I always get asked is, how do I elegantly turn a social visit with friends and family into a conversation about real estate without seeming inappropriate. It is all in the delivery. Here are five questions you can casually throw into the conversation to get them thinking about real estate without seeming insensitive:
If Santa was to give you a new house for Christmas, what would your wish list be?
Are you planning any renovations this year?
I was in BestBuy shopping at Christmas, and I can't believe the number of people buying smart home technology. What do you think about smart homes?
I just love your neighborhood. I/we have a new listing coming up on ___ street in January. Do you know anyone who would like to live in this neighborhood?
I was doing some research last week for some clients who want to live in this area. Did you know your neighbors got $455,000 for their house last month?
There are a lot of ways to bring up real estate without asking people outright if they want to buy or sell. The trick is to make it sound casual rather than contrived. Any of the conversation starters I just mentioned would be a great segway into a real estate conversation to see where it leads. I'm not saying that it will get you a hot lead this week, but it will get them thinking about real estate and the seeds you plant now will harvest this spring.
Now let's switch gears and talk about the second great opportunity for you this week: making holiday phone calls to prospects who have gone cold. Often our prospects, because of busy schedules, can put real estate on the back burner. In sales, we get understandably frustrated, and we often turn our attention to more committed prospects. I recommend you go through your contacts for 2021 and reach out to call every prospect you haven't talked to for a little while. Wish them happy holidays. See if they are still interested in moving. If they say yes, let them know you've got time this week to meet them while they are off work. You'd be surprised how many opportunities you can resurrect and how many people would be available this week.
I would also let your manager know that you are available for floor duty this week if they need someone to cover the office. If you are going to spend time making phone calls, you might as well do it from the office where you might get some walk-in traffic. For the small number of agents who do come into the office this week, you'll find it quite festive and enjoyable.
Again, I hope you have a great holiday week. I hope you make the most of it, enjoying some time with family, but also setting yourself up for a great January. Commit to visiting 2 friends every day over the next week. Don't just phone them. Stop by and visit. Use the conversation openers I've suggested to elegantly bring up real estate in the conversation. Go back through your prospect list for 2021 and make happy holiday calls to everyone you haven't spoken to in a while.
If you want more information how to make 2022 your best year ever, please visit https://leadersedgetraining.com/agent-virtual-training/.
Chris Leader
President
Leader's Edge Training